I planned a fun trip so that we are able to travel together and enjoy a wonderful vacation as a family. This Chinese New Year giving me an opportunity to 'kill two birds with one stone' so to speak. We were able to visit Tanjung Sepat for the first time and later attended the FGS Dong Zen Temple CNY Lantern & Floral Festival in the late evening.

This is how I planned this holiday road trip..

We drove all the way from Seremban before reaching the small but vibrant community that sits quietly behind the main road. Tanjung Sepat is located at the south west of the State of Selangor in the district of Kuala Langat, along the Strait of Malacca.

This small fishing village have a population of about 10,000 and 6,000 of them are elderly, younger folks tend to migrate to a vibrant lifestyle with big city.
Chinese formed the majority at 90 per cent of the resident. Most of the older homes had a signboard in bold characters hanging above the entrance with Han surname. The top three surnames family names are Lim, Chia and Tan.
After spending a day here, we will make our way to Banting and check into a hotel. In the evening we will proceed to Jenjarom for the annual fiesta.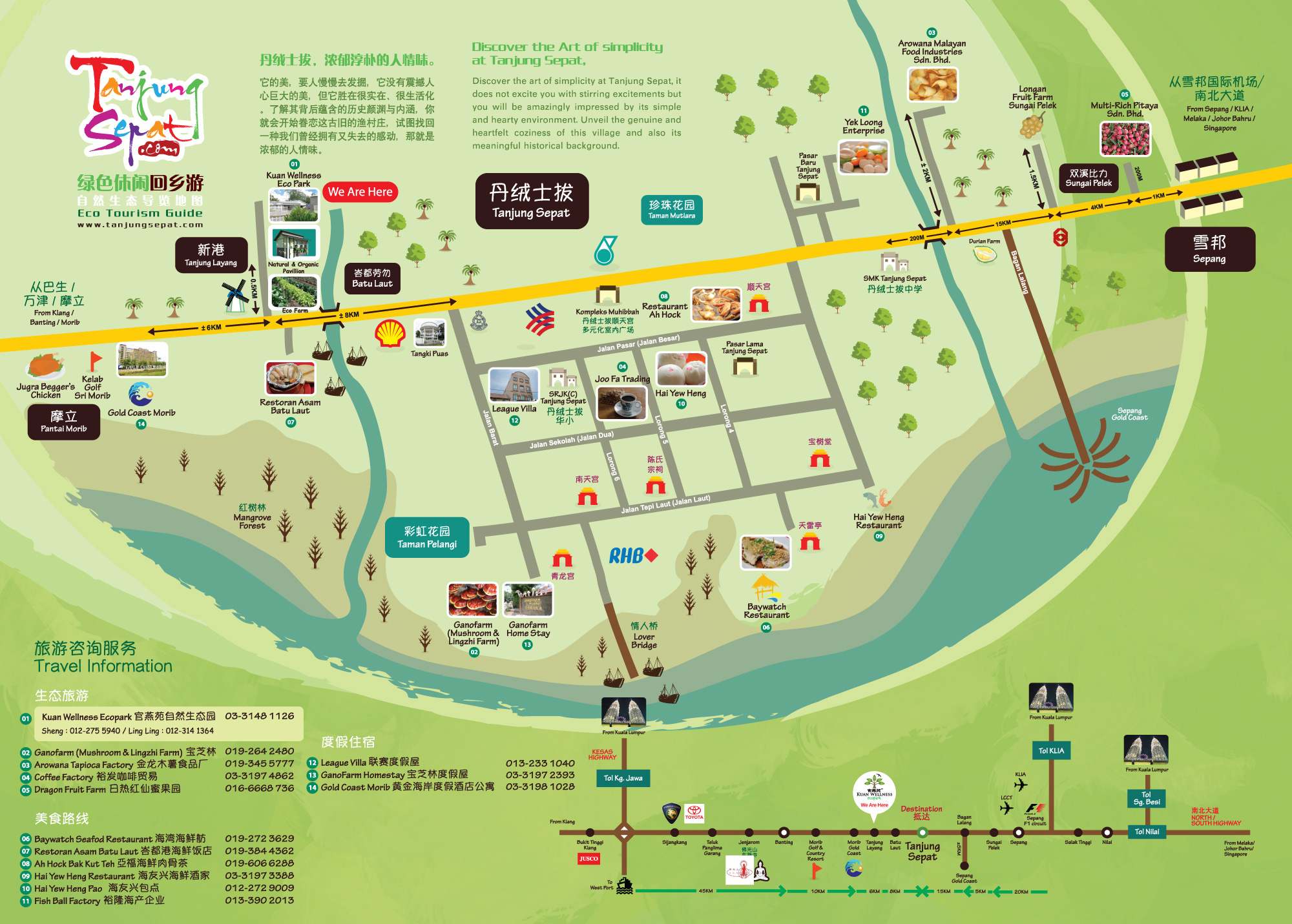 The religious fishermen built many Taoist temples in the small village. In Taiwan Ma-tsu, is the Chinese goddess of the sea who is said to protect fishermen and sailors.
In Portugal, Italy, France and Spain, St. Anthony is the patron saint of sailors and fishermen. So you see, it was necessary for most fishermen to have religious faith. Faced with volatile and uncertain weather and catch, they have a tendency to worship traditional deities or saints, hoping that religious ritual will provide to secure safe passage of your loved one to almost any destination.
A temple is dedicated to God of Thunder
No, not Norse god of thunder nor Zeus Greek mythology god of thunder but Lei Kung. 雷公 is
the Chinese god of Thunder and Retribution
He is a fearsome God with claws, bat wings, and a blue face with a bird's beak who wears only a loincloth.
Like his counterpart Thor, Lei Kung holds a hammer but in the other hand also carrying the chisel makes thunder by hammered the drum and the chisel to send lightning-bolts. Behold ! the wrongdoers, Lei Kung will use thunder as a instrument that Heaven used in order to punish evil-doers.
Our first stop was the famous Hai Yew Heng's Pau Shop (海友兴包点)
I always wonder, what's so unusual about Hai Yew Heng pau? Many bloggers recommended readers not to missed out on Hai Yew Heng's Chinese steamed buns (pau). To the best of our knowledge, we were led to believe their pau were tasty and popular, and expect long queue lines will be sold out within hours.
When I reach there there is no long queue because it had closed. This may due to on this day- Chap Goh Meh (the 15th night of Chinese New Year), local people will eat purely vegetarian foods to purify and cleanse out their body.
On second look, the shop owner was on the opposite of another shop, he came over and we may select any flavour of pau we like. During peak season, each person can only order 5 pieces of buns, he corrected me not 5 pieces but 3 pieces.
Hey... you look familiar, wait a minute, you re that person on the 'wanted' poster!!!
Their famous pau or top selling buns is the Meat pau and Mui choy pau. Nothing against the shop but for me overall it's just seemed like a regular bun except they makes them lighter and fluffier. You can say these buns taste better the stuffing. Don't get me wrong - it's good but not outstanding, its just that not the best bun I've ever had. Maybe even though became famous, someone has to take the responsible of quality assurance and bring new innovation and creativity to sustain highest standards of excellence.
Let's just say his reputation precedes him.
He bought another shop, named "Chip Seng" and partnered in two more shops. Live up to his name "Pau Sang Pau Hoi"
A fish ball seller on bicycle pester my mom to buy the product from him. She somewhat reluctantly to buy initially, told him we are tourist so it's inconvenient for us to take back to our home and cook but the man says, No problem with the fish ball as its ready-to-eat cooked foods. Clever marketing ploy from the local vendor. Surely this ready-to-eat fish ball packaging customised to suit the visitors.
How much? He was selling at RM5 per packet. The first thing that surprised me was why the fish balls not the usual rounded one but it shape one end rounded while the other pointed round. The fish ball have an elastic (bouncy) and fluffy texture. Probably if I throw on the floor it will bounce up like a ping pong ball, in a manner of speaking.
The famous icon of the town is the Lover's Bridge (情人桥) which is actually a jetty but why the local called it a bridge? I reckon the reason is lost in translation. Tanjung Sepat Lover's Bridge - starts with concrete but if you go further the rest of jetty made of wood, which span 100m across the Strait of Malacca (Melaka).
Like the rest of the world, the jetty purpose is for the fishing boat anchored to the jetty and bring in the day's catch.
On 25th June 2013 the jetty on the background - Tanjung Sepat ( 情人橋)collapsed .
The Tanjong Sepat state assemblyman and a village head were injured when they fell from the popular 100m "Lovers Jetty" that collapsed. Fortunately, it was low tide at the time. Both fell onto the sand below while inspecting the shaky bridge at the time of the collapse. It seemingly called by the nickname due to a favourite evening spot for courting couples to enjoy the sun­set. Perhaps now it should renamed to 'parting bridge' due to its nature, for couples to announce their break-up?
How did the name Lover's Bridge get stuck? Some says that it happened a long time ago.
Before embarking on a fishing trip, their wives will accompany them to the jetty to bid them farewell and wish them a safe return of them. As the ship sails and their spouse stand watching till the ship fades on the horizon.Later that evening often their partners patiently waiting for the boats to return with their catch. The two stopped at the jetty and watch the sun say goodbye to yet another lovely day.
The couple share a quiet moment alone to watch the romantic sunset say goodnight to the sun.
Times have changed, in the old days the idea of going on a date by a stroll in a park or watching sunset would be an ideal place for a romantic walk. This "old-fashioned" concept can only be seen in the old movies of yesteryear as the trouble with young couples today methods of communication are becoming more impersonal using iPhone or iPad than face-to-face interaction.
Hey I could be wrong, you can still see there's still couples courting at the jetty but I wouldn't recommend the idea when two in a really bad mood swing as people may or may not say what they mean in a really heated argument. One thing leads to another, jumping off the bridge might be the cause of those spur-of-the-moment things and usually isn't planned.
How about if I make up a story about Lovers Bridge? .. This was just for fun
A long time ago, there lived a young couple who yearning to get married and live happily ever. Unfortunately the boy was poor but he was determined to marry his girlfriend, whom he had known since childhood. He work hard, working on a multiple job to save enough for marriage and postpone his proposal until he can afford a proper engagement diamond ring. He saw a sign for crew hand is needed to work in the rough sea conditions, obviously you'll find involve risk will lead to better pay.
A storm appear out of nowhere. The wave was reported to be at least 50 feet (15 m) high, struck the boat and broke the mast. The unfortunate Tony got knocked on the head bleeding profusely.
When they pulled him out of from the wreck, all he could say..
Tell Lana I love her
Tell Lana I need her
Tell Lana I may be late
I've something to do, that cannot wait
Lana was devastated and refusing to accept the news of his tragic demise. She never got over his death, never stopped missing him.
There has never been a day went without her fails to show up & wait at the at jetty, hope for a miracle to appear. As always when the daylight fades her hopes turn from hope into despair. She felt that she had nothing to live for without him.
At the jetty is where their most romantic place for the couple most happiest moment together, watching the
sun goes down as the sun says goodnight to the mountains and the night says hello to the dawn.
They were so very much in love.
Both like to
profess their true feelings of love towards each other using love song means and maybe they will have one or two as their own. All they had to do was replace the names and sang the very beautiful rendition of the song.
One day she was never seen again, her mysterious disappearance ... no one knows what happened to her.
At the jetty when it was late evening at the jetty, many often heard a voice in the dark said...
Tell Tony I love him
Tell Tony I miss him
Tell him though I may try
My love for him will never die
Wouldn't you stop and take a look at this place, if it was you?
Hold the horses, what we've got here! As we we go past this shop, I was wondering what do we have here? Is it a museum or souvenirs shop? The gimmick behind this is pretty darn clever as I say stop the car and explore the surrounding.
At the front of the shop, it looked more like a museum than a shop. You got my attention, you got my attention attention to wanted to look see. Even more fascinating tour awaits visitors at the back of the shop.
There are 3 in one options of what you can do here, you can buy gifts for relatives and friends, a short tour to the Museum alike object and taking delightful photo sessions outdoor with plenty of props that create a beautiful natural scenery. Bravo to the owner, this is a great marketing strategy that attract more and more visitors to Tanjung Sepat and his shop.
Address:
Qingren Qiao Local Product Shop
No. 25-A, Jalan Senangin, Taman Tanjong
42800 Tanjung Sepat
Selangor
Check it out! Childhood favourites - malt sugar and ting ting candy! I used to love this in the past although i would prefer the traditional type directly twirled from a pot of thick and brown concoction!
Those who grew up here in the '50s will remember the classic sweets called Ting-Ting Tang ( 叮叮糖). The candy seller 'breaking' the molten malt with chisel and hammer into shards. It got its name through the sound is produced when the malt is struck with hammer. 'Ting, ting, ting' was the sound heard from afar.
So many things, what to buy for relatives? The souvenir shop is located just before the bridge.
You will not miss this shop with the unique display outdoor, even though the signboard a little high for us to read. Biscuits, shells, dried prawns, dried anchovies, salted fish and other seafood products are available here.
There are also some interesting things like these photos.
A Cairo newspaper claims the mermaid was caught in the Red Sea off Yemen.
Here's the bizarre 'mermaid' discovered you've ever seen – a "mermaid" with a fish's head and the hips and legs of a fully-developed woman. Its got fake written all over it.
As can be seen from the above image of this report, what we're observing is a truly sensational photograph of what can indeed be described as a mermaid, but, something that is different in stark contrast to the standard stereotype of a mermaid, the other way around of the upper half of a fish with the lower half (legs) of a woman. The fact that you see is an obvious fake but why many people are duped into thinking its fact? That's where I WANT TO BELIEVE went dead wrong.
The standard mermaid does not show how she able to breathe underwater, while the mermaid from Cairo seems awkward to move in the water without fin. We don't need scientists to say there is no such thing as mermaids. I do not believe in Mermaids, no such thing ever but I do believe in Angels, Demons, God, Jesus, and those kinds of "supernatural" things. Alright don't called me a hypocrite.
Mr. Simon Yam was among the many famous VIP visited the Qingren Qiao Local Products Shop
Warning! Do not put your hand into the jar, any injury or liability, we shall only subject to pay the amount of RM10
What have we here, this playful beaver chases the rolling ball! Is it alive?
Ladies and gentlemen I have been punked!
Why not the owner of the costumes rent it out to tourist for photo shot?
This photo vividly reminds me of the scene in P Ramlee's "Do Re Mi"
God of Fortune giving out wealth in form of Chinese gold ingot, I'm sorry I have no small change.
Ji lee remind Choy San Yeh, "There are two of us here"
Move 'em out, head 'em up: Rawhide
Take the time you need when learning riding your bicycle. Slow and steady pace.
No, I'm not at the "Little Children on a Bicycle" Mural, Armenian Street, George Town, Penang
Captivating mural depicts a little girl taking her younger brother on a bicycle ride. One of many interactive street art by Lithuanian London-trained artist, Ernest Zacharevic. This is the actual picture for his inspiration.
Lighten up mister. Why so serious? How can I be relaxed? You're new here. Don't you know I am Justice Pao the one who has many cases to oversee and stood up against corruption? OIC
Flour mill stone
An old fashioned stone mill working with wet rice making rice flour at home. My grandma used to have this at her house.
Honey today Valentine's Day, let me help you with ironing. Wow, so heavy is that how you build your muscles?
There is no historical mention on when this practise of ironing to press the clothes smooth started. Earliest records do show the existence of the Chinese using hot metal to press clothes almost a couple of centuries ago.
An antique iron is one that is definitely made of cast iron. The iron was traditionally heated with the help of an open flame or heated charcoals and used for pressing clothes. You need to really be careful with this iron can easily burned hole in the shirt or worst, you'll be scarred for life.
Konichiwa Ji Lee-San!
Want to go on a cruise with my sampan?
What's the house speciality? Just look up!
Fried crab with "mee hoon" or rice vermicelli
You can select a row of seafood restaurants facing the sea, that you can take your dinner or lunch. All located near the partially collapsed Lover's bridge.
Namely, the Lover's Bridge Restaurant, Ocean Seafood and Ban Joo Hing. I choose Ban Joo Hing restaurant due to plenty of parking and there is a lot of shade provided by the large trees.
At the BJH Restaurant, we tried the some famous dishes that include the mee hoon fried with crabs, oyster omelette and fish ball noodles. They were generous with the oysters, in comparison with Malacca counterpart which is quite stingy with their portion.
Tanjung Sepat is a good place spending time with family during the holiday season or weekend. Here you can find fresh, affordable and delicious seafood. Those three restaurant by the seaside is always packed, and it's no wonder.
The only thing that disappointed me is why there is no emphasis on clean modern toilet?
Oh my goodness these toilet is like travel back in time, during my grandfather period when great taste is the first and foremost priority and cleanliness take a back seat.
With the revenue tourism brings in each year, I am sure they can afford to build a new ultra modern toilet facilities? Sigh, how to bring foreign visitors to this place? I feel shameful when they needed to use the toilet.
Isn't it pitiful?
My niece says one visit is enough. Her mom replied, "Speak for yourself!". She obviously wants to taste some more of the really good seafood and explore the naturally interesting surroundings. Yes, of course..you guessed it, watched a beautiful sunset! An overnight stay, perhaps on my next visit.
Ending this visit with Arnold Schwarzenegger catchphrase "I'll be back" and this time my two other nieces will follow, that's for sure.